Oil Will Be Led By Politics
posted by RoboForex on 2017-12-04 17:12:18 in brent, oil, roboforex, gurkovskiy | 0 comments
The OPEC's November decision on the extension of the agreement, which establishes strict borders and limits for the oil extracting countries, was quite logical. The agreement has been extended at least until the end of 2018. So, the main question for the nearest future is how the OPEC is going to terminate the agreement if the organization has no plan B.
On the first Monday of December, oil prices are trying to start a correction. Brent costs $63.41 (-0.5%); WTI lost 0.7% and right now is $57.98. Less than 4 weeks left until the end of the year, that's why there are doubts that oil prices will update the highs reached this autumn.
Right now, political scandals that seem to have become a back-burner question are a key concern once again. Nobody forgot about them. We're talking about the "Russian trail" during the 2016 electoral campaign, when Donald Trump defeated the other candidate and won the elections.
It became known that the former US National Security Advisor, Michael Flynn, is ready to provide evidence of Trump's knowing about the contacts with Russian representatives. As a matter of fact, this is a testimony against the US President and it will put the pressure on all assets, which are risky one way or another. The Oil is one of them.
Due to this, the latest statistics on the Oil Rigs changes from Baker Hughes published last Friday didn't attract much attention. However, it might be considered as "bearish", because the Rig Count increased by 6 and now equals 929 units. The statistics over the last couple of months is looking rather mixed. To a certain degree, this is the reason why investors barely react to these numbers.
From the technical point of view, Brent is moving inside the uptrend; however, the tendency is being corrected to the downside for about a month. For form of the mid-term correctional trend looks like the Triangle pattern, which may be a short pause before further growth.
In the short-term, Brent may break the downside border of the triangle channel and the support level of the main trend. After that, the instrument is expected to rebound and start forming a new rising impulse with the main target at the current high at 64.75. If the price breaks this level, it may continue growing towards the upside border of the main trend channel close to 69.75.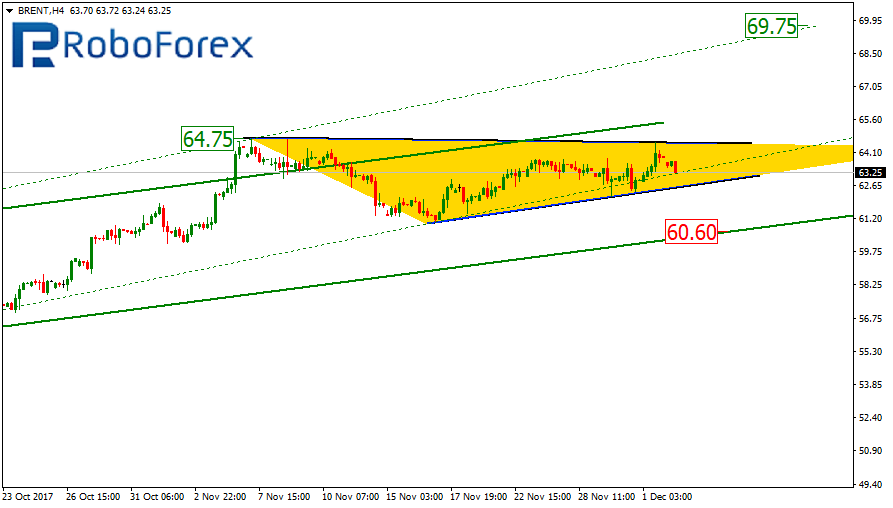 Latest updates and forecasts on Oil and more
Author: Dmitriy Gurkovskiy, Chief Analyst at RoboForex
Attention!
Forecasts presented in this section only reflect the author's private opinion and should not be considered as guidance for trading. RoboForex bears no responsibility for trading results based on trading recommendations described in these analytical reviews.