Aussie Bears at Risk as Reserve Bank Has Reason to Dial Back Dovishness
posted by editor on 2019-10-01 19:53:17 in Forex, Forex Market, Aussie Dollar, RBA Rate Statement | 0 comments
Investors betting on fresh losses in the Australian dollar are at risk of having their trades backfire this week.
While the majority of economists predict the Reserve Bank of Australia will cut interest rates to a new record low on Tuesday, there are a number of factors that suggest policy makers may spur an Aussie rally by either deciding to stay on hold or delivering a hawkish cut by restraining expectations for any further easing.
The central bank's Aussie trade weighted index has fallen for an unprecedented fifth quarter, signaling the currency is delivering an extra dose of accommodation by helping underpin exports. At the same time, the official cash rate at an all-time low means the RBA may want to reserve what little ammunition it has left.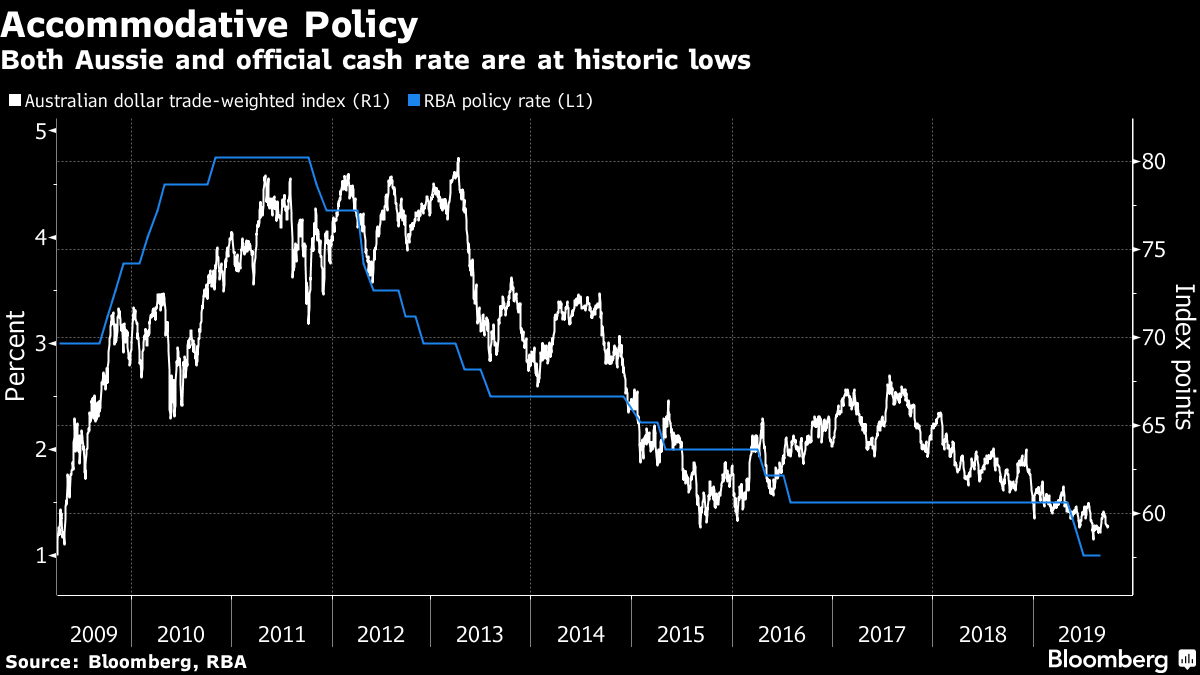 "Markets are conditioned for a 25 basis-point rate cut on Tuesday but it's the narrative from the RBA thereafter that could really wrong-foot currency traders," said George Boubouras, director at Salter Brothers Asset Management in Melbourne. "The risk is the Aussie will pop higher at least in the short term, in the next few months, before falling again next year."
The Aussie slumped 3.8% last quarter, and hit a 10-year low of 66.77 U.S. cents in August, due to concern about escalating U.S.-China trade frictions and signs the Australian economy is cooling. The currency was trading at 67.34 cents as of 12:40 p.m. Tuesday in Sydney.
Leveraged funds held a net 16,263 contracts betting on further losses in the Aussie, according to data from the U.S. Commodity Futures Trading Commission for the week ended Sept. 24. They have now been bearish for almost 17 straight months.
The downbeat positioning means there is plenty of scope for a rebound if the RBA delivers a hawkish surprise. "Recent price action around the Reserve Bank of Australia's rate-setting meetings and stretched short positions signal some upside risk for the Australian dollar," said Francesco Pesole, a foreign-exchange strategist at ING Bank NV in London.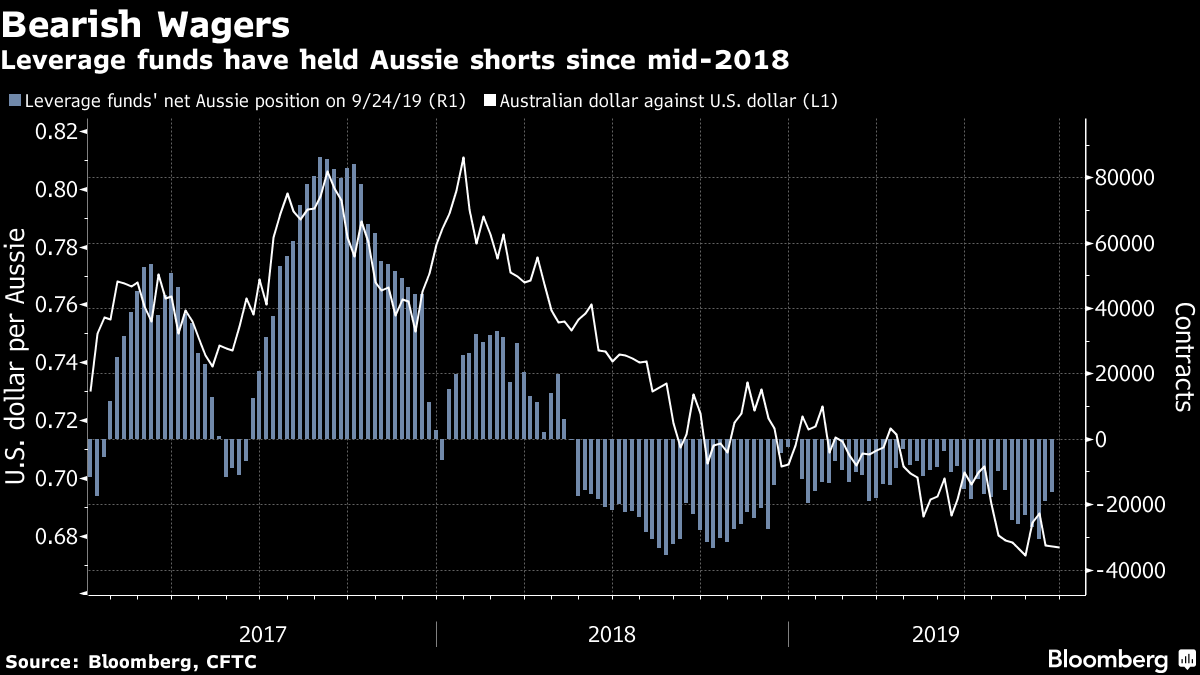 Commonwealth Bank of Australia expects the RBA to cut rates on Tuesday due to a weak labor market but sees a possible bounce in the currency if policy makers hold fire.
"Our previous research indicates the Aussie could jump by 0.4% if the RBA does not cut," Kim Mundy, a currency strategist in Sydney, wrote in a research note. "We are wary of this risk given last week's small spike in the New Zealand dollar following the RBNZ's decision to keep the cash rate steady and deliver a neutral statement."
Nikko Asset Management Ltd. also sees the possibility of an Aussie rally.
Traders who are shorting the Aussie may find themselves getting hurt, said Chris Rands, a fixed-income portfolio manager in Sydney. "The risk is that we find out the RBA is no where near as dovish as the market had expected."
Source: Bloomberg